In many cultures, the peacock is an important bird. Peacocks were the animals of nobility, as well as used as guards. In addition to watchfulness and confidence, the peacock often symbolizes beauty, immortality, death and resurrection. In honor of the peacock, this week I am pleased to feature beautiful turquoise, blue and green items.
I love these
Peacock feather earrings
made by
Ms. Formaldehyde
, an artist we have featured before on this blog. Many people make peacock earrings, but I love that the artist chose to pair the sleek peacock feathers with fluffy white ostrich feathers and pearl accents. The earrings are very classy, but can be worn with casual clothing as well. If you like these earrings, be sure to check out Ms. Formaldehyde's store, especially her selection of feather hair fascinators and tiki totem items.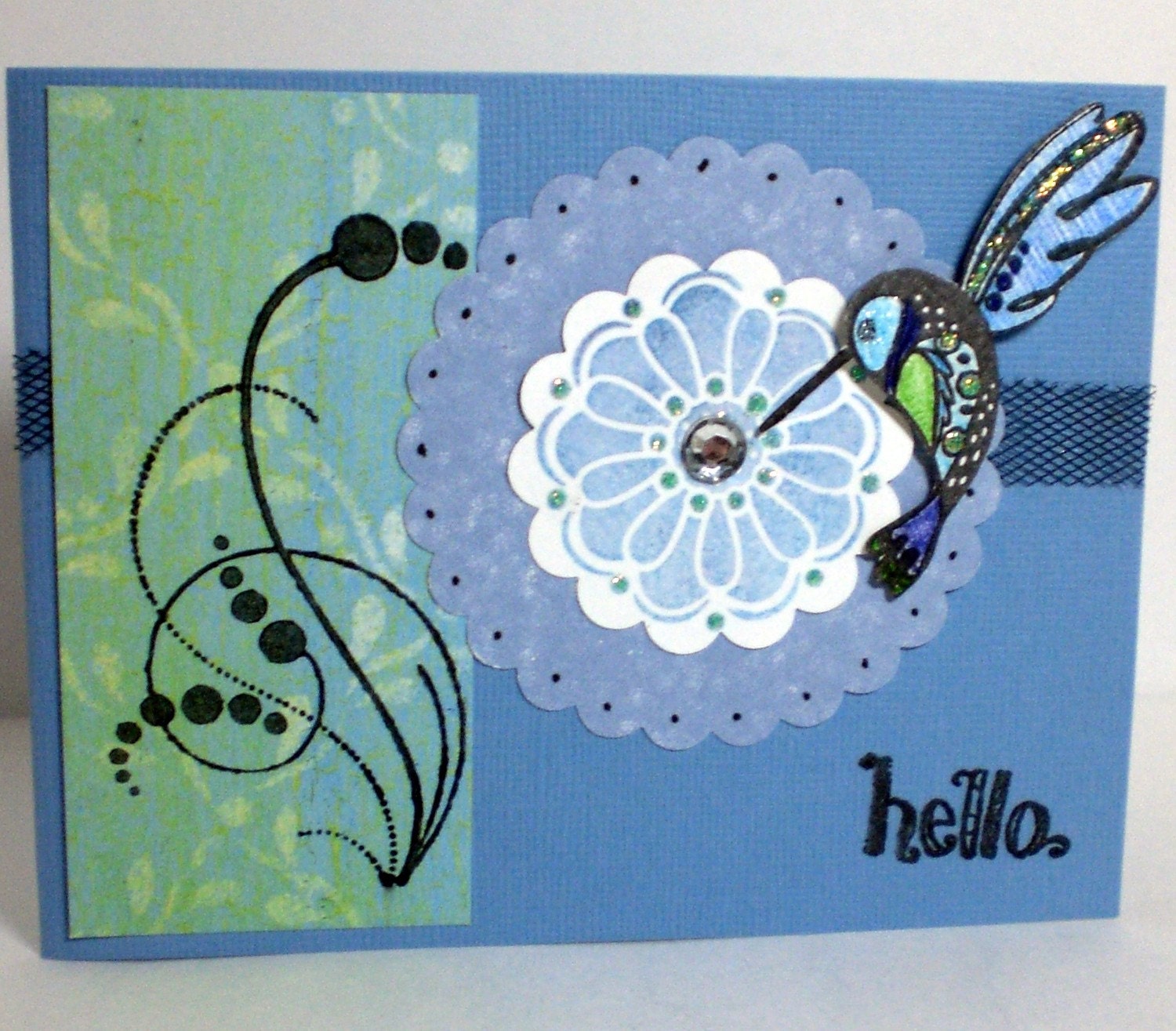 In keeping with our peacock-themed finds, check out this beautiful turquoise and green
card
from
Creativity Bugs
. Creativity Bugs, run by Sandy and Sue, makes layered and embellished cards, like this card, in a pet and smoke free environment. I love the pretty hummingbird and the blend of colors, shapes and textures the two use to create this card. The inside is blank so that you may write whatever message you would like!
How about a present for your little one? Looking to add a little Victorian flair to your little girls wardrobe? This satin flower and peacock feather
headband
made by
Chicky D
fits children aged 4-18 months. The headband is soft and made from a white ruffle. And since the holidays are coming up, this headband would be perfect for photo taking opportunities! And if you would like a different color, be sure to send Danielle a custom request.
Finally, I love these silver and turquoise
earrings
created by
Beader Bubbe
. As with the peacock earrings, this set is elegant and classy but may appeal to those with simpler tastes. The earring has a swirled floral pattern design with two small turquoise beads at the bottom.
Well, that is it for this week! Be sure to check back next week to see our next featured artists.
**********************************************************************************
If you are an Etsy artist and are interested in writing weekly blog articles featuring other Etsy artists, while also gaining exposure for your own store, then head over and check out the
BESTeam
for more information.